What would a VPN be, many people confuse that. Currently when it comes to the name of VPN, we are already thinking of a program to hide our IP so that it is possible to access that site or download something from the internet without being identified. But that's not exactly what VPNs were created for.
In short, a VPN is a bridge between two networks. That is, through encryption these programs will allow you to perform the same activities you could do locally anywhere you wish.
However, not all VPN programs operate the same way. Some have the need to allow port forwarding. In the case of Wireguard, you saw having to release 51820. OpenVPN will need to release port 1194.
But if you don't want to allow a single port on your router, or even your router doesn't allow you to configure port forwarding, all is not lost.
Here comes Tailscale a VPN distribution which uses Wirenguard. This program requires neither basic configuration nor port forwarding.
All you need to do is install, and the rest is ready to use.
O que seria uma VPN, muitas pessoas confundem isso. Atualmente quando vem o nome de VPN, nos já pensando em um programa para esconder nossa IP para que seja possível acessar aquele site, ou baixar algo da internet sem ser identificado. Porém não foi exatamente para isso que as VPNs foram criadas.
Resumindo, uma VPN e uma ponte entre duas networks. Ou seja, através de encriptação esses programas vão permitir que você possa desempenhar as mesmas atividades que você poderia fazer local em qualquer lugar que você desejar.
Porem nem todos os programas de VPN operam da mesma maneira. Alguns tem a necessidade de permitir o direcionamento de porta. No caso do Wireguard, você via ter de liberar 51820. Já o OpenVPN será necessário liberar a porta 1194.
Porem se você não quer liberar nem uma porta no seu roteador, ou até seu roteador não permite que você configure o direcionamento de portal, nem tudo está perdido.
Aí vem o Tailscale uma distribuição de VPN na qual usa o Wirenguard. Esse programa não exige nem uma configuração básica nem direcionamento de portas.
Única coisa necessária e fazer a instalação, e o resto já está pronto para usar.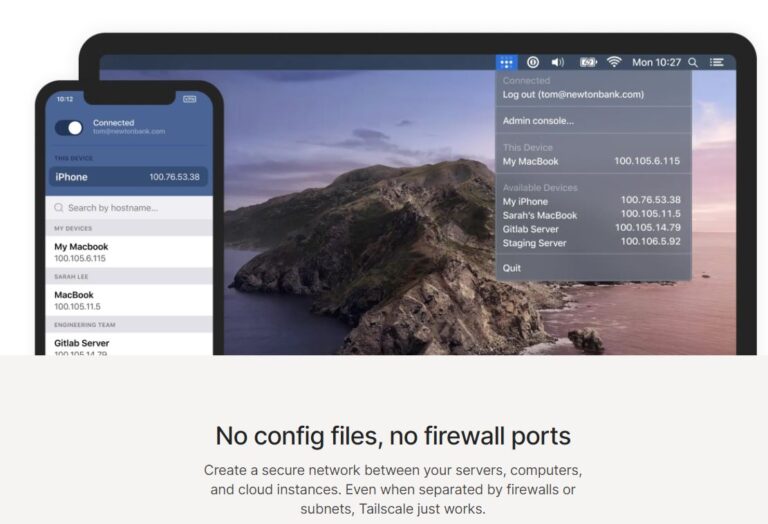 After that you will have to make your account, that is simple and just access the link: "Get start" in this region:

After that and just try to connect to one of the services, or create your own account as shown in the photo below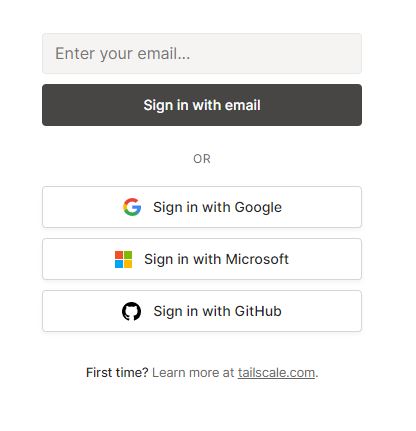 Once that's done, you can download the installation file and connect with Tailscale. You can use a wide range of devices that support Tailscale, see the photo below.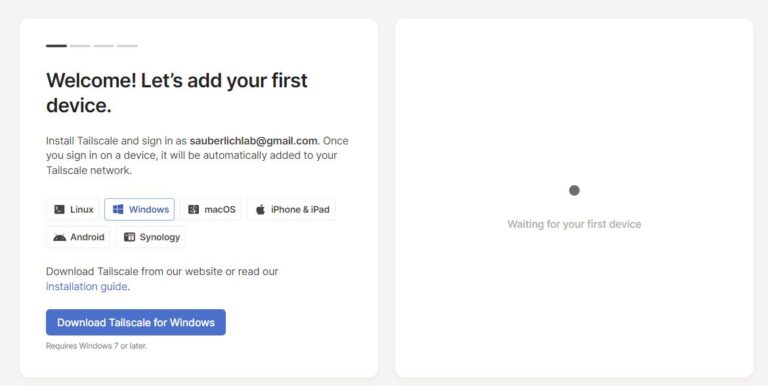 In our case, we will install Tailscale on Ubuntu 20.04 Linux version, but select the operating system you will be using. With that check out the link:
https://tailscale.com/download/linux
Before starting any installation, you will need to install the Curl program, for that use the code below:
Now we can start adding the security key and repositioning it from Tailscale.
curl -fsSL https://pkgs.tailscale.com/stable/ubuntu/focal.gpg | sudo apt-key add –
curl -fsSL https://pkgs.tailscale.com/stable/ubuntu/focal.list | sudo tee /etc/apt/sources.list.d/tailscale.list
Now the best thing you can do is update your list of, use the command:
Then you can install Tailscale with the following command:
sudo apt-get install tailscale
To authenticate and connect your machine to your Tailscale network, you will have to use the command:
To find IPv4 you will need to use the command:
If you want to install using another architecture, the only thing you have to do is choose the architecture you want on the bar:

And then the only thing you have to do is follow the installation steps. No need to do any other configuration. You only need to activate the device service.